We are located in the Syracuse Eye Center. There is convenient parking and we are in close proximity to the University, SUNY Health Science Center, and Crouse-Irving Memorial Hospital. In conjunction with the Doctor's office, we are able to provide you with all of your vision needs.
At your service are licensed and nationally certified opticians, F. James Hamilton, Sheri Van Scoter, and Liz Azzoto. With combined experience of over 60 years, our opticians have earned reputations as quality specialists dedicated to the health, well-being, and satisfaction of their devoted customers.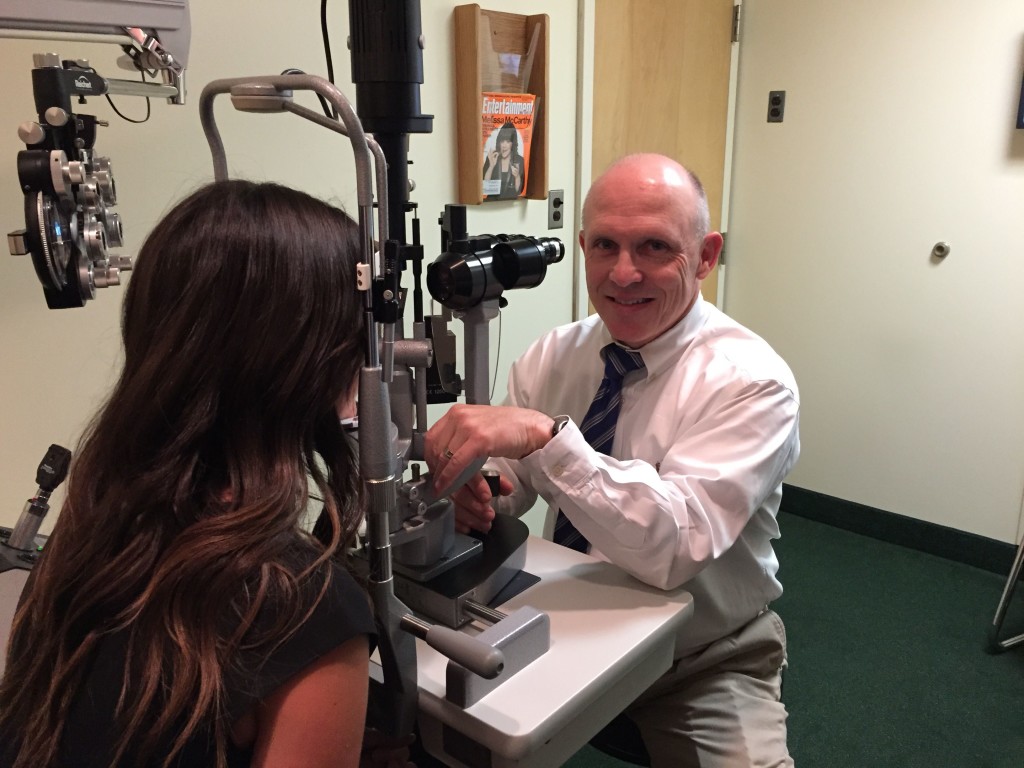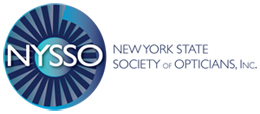 Eyeglasses

Contacts

Repairs

Adjustments
Low Vision Aids (ie. magnifiers)

Sunglasses (Both prescription and non-prescription)
Eyeglass Frames 
We carry a wide selection of the most current styles and many old favorites. At Ocutique our frames range in price from $100 to $490.  We carry a wide variety of frames including top designers such as Gucci®, Versace®, Elle®, Flexon™, Liz Claiborne, Tommy Hilfiger, DKNY and Ralph Laurent.
Eyeglass Lenses
There are many different lens materials to choose from. We offer lenses from leading manufacturers such as Essilor®, Carl Zeiss®, and Hoya® in order to provide you with the greatest comfort, highest quality and most current technology.
Plastic Lenses
Plastic lenses are one of the more popular lens materials used today. You will often hear the term "scratch resistance". This is a coating that is added to the lens to help shield them from scratching. While this coating does protect the lens it is not a guarantee that they are "scratch proof".
Trivex Lenses
There are different name brands for the Trivex lens material.  It is known as either Phoenix, NXT, Aris or Trilogy.  This is a material that has similar optical qualities of glass lenses, but offers the weight benefit of plastic material.  It also possesses a superior impact resistance suitable for children.  Trivex has 3 main features: clarity, strength and light weight.
Polycarbonate Lenses
Polycarbonate is one of the safer materials made.  Polycarbonate material is lighter and 18% thinner than plastic. This allows for a more comfortable fit and a more cosmetically appealing pair of glasses.
High Index Lenses
These lenses are a form of hybrid plastic usually lighter in weight, and denser than standard plastic offering the individual a thinner, and lighter option for a more cosmetic appeal.  If you have had glasses in the past that were heavy or thick, high index lenses may be the ideal solution to the problem.
Ultra High Index
This is the newest lens material available providing the absolute thinnest option.  The availability of this new material has allowed the consumer a wider range of frame choices, and offers premium product to those with more challenging prescriptions.  If you have had glasses in the past that were heavy or thick, high index lenses may be the ideal solution to the problem.
Glass Lenses
Glass lenses are the oldest material on the market. Glass provides more scratch resistance but is much heavier than plastic and not as safe as the plastic, polycarbonate, or trivex materials. For these two reasons most people have chosen to switch to the lighter and safer materials.
FEATURES AND BENEFITS
Lenses that darken automatically
Provides ultra-violet protection
Delivers a variable tint in a variety of colors
Major brands of photochromaic lenses:
Ultraviolet or UV Protection

A treatment applied to plastic lenses
All premium lens materials are UV protective
Ultraviolet radiation is known to cause cataracts
Scratch Resistance Coating

An invisible surface treatment that protects the lens
Automatically included on premium lens materials
Eliminate reflective glare
Provide UV protection and are scratch resistant
Excellent for water, snow, and full sun activities
Manufacturers of polarized lenses include:
KBco®, Vision-Ease®, and Younger®
Lens Styles
Single Vision lens is a lens commonly used to for either near, intermediate or distance vision, depending on what your visual needs are as determined by your doctor.
Bifocal lens is used for patients who need to see distance and near with their glasses on. A segment, usually with a line at the bottom of the lens.  This helps the patient to see both in the distance and at near.
Trifocal lens is similar to the bifocal but another smaller segment is added on top of the bifocal to allow the patient to focus at the intermediate (arm's length) distance.  This design allows the wearer to see the computer screen, store shelves, and the dash board more clearly.
Progressive lens is similar to a trifocal in that it allows the wearer to focus at many different ranges.  There is no visible line and is sometimes easier to adjust to and more cosmetically appealing. This can be fit in place of either the bifocal or the trifocal.
Free-Form and Digital processing is the latest in lens manufacturing.  Currently, these manufacturing processes are offered in the single vision and progressive lens designs.  This procedure provides accuracy to 1/100th of a diopter in power, and plots power changes optimally for a customization of the individuals' prescription.
We carry a wide variety of manufacturers for the greatest comfort, easiest adaptation, and best cosmetic appeal.

Please feel free to contact us for more information about these or any other products.
There are many different types of contact lenses available for our patients. The most common categories are Hard, Rigid Gas Permeable (RGP's), and (Soft). With the technology available today more people than ever can be fit with contact lenses.
Replacement modality

Daily wear lenses
Replace daily
Frequent replacement
(Lenses that you dispose of monthly, quarterly or every six months)
Disposable lenses
(Lenses that you throw away every one or two weeks)
Extended wear lenses
(Currently approved by the FDA for continuous wear for up to 7 days or 30 days)  Not recommended.
Hybrid lenses
(A combinations lens with a RGP center and Soft skirt)
Lens Designs

Single Vision contact lenses are the most commonly used lens for correction.
Bifocal contact lenses are available and commonly referred to as a multifocal.
Toric contact lenses correct for astigmatism, and are also available in multifocals.
Progressive contact lenses have a variables focus to accommodate several distances.

Major Contact Lens Manufacturers
For more information, call our office at (315) 475-0186, or stop in with your prescription and we will be happy to recommend contact lenses that are right for you, provide a fitting, and conduct follow up care.
Payment Options & Insurance Information

We accept cash, Visa, MasterCard, Discover, PayPal or personal check. Payment in full is due upon ordering eyewear. We participate with many insurance plans such as Medicare, Excellus BC/BS, VSP, EYEMED and Davis to name a few. To make your visit more enjoyable please determine your benefit prior to coming. If you are having difficulty understanding what your insurance will cover please call. We will be more than happy to help you research it.
The member services number listed on your insurance card can usually answer your questions. When using insurance to purchase glasses it is imperative that you have your card with you. We will need to have a copy on file. Please inform us the time of the visit you wish to use insurance. It is necessary to verify eligibility.